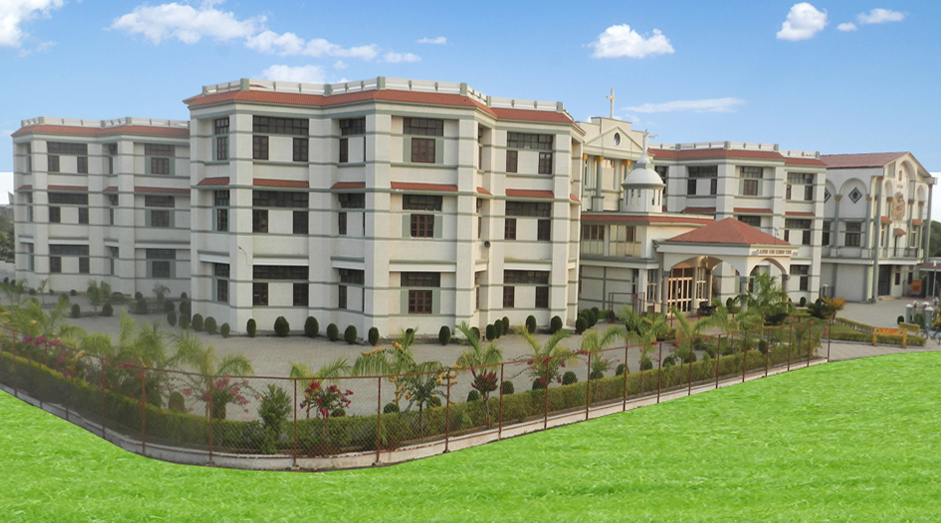 One of the premier educational institutions in the State, St. Aloysius is owned and established by the Catholic Diocese of Jabalpur, and is administered through the Jabalpur Diocesan Educational Society (JDES), a registered body under the Society of Registration Act M.P. 1968.
St. Aloysius School had its humble beginning in 1869, when Fr. Matagnoux Delalex MSFS from Nagpur started the School with four orphan children. The Primary School got recognition from the Government in 1873, and the middle in 1884. As the number of students increased a new building was put up blessed and inaugurated by Bishop Coppel on October 13, 1915. The devotion, dedication and commitment of several MSFS, Norbertine and Diocesan Fathers and Teachers are a standing witness behind the name and fame of this institution.
St. Aloysius School accommodated St. Thomas Middle and High School from 1948 till the latter shifted to the new campus in 1956. The School was following the Cambridge syllabus for quite some time before it switched over to the M.P. Board and became a higher Secondry School in the year 1965.
The School got affiliated to the Central Board of Secondary Education in the year 1994. There was a constant demand for Aloysian quality education and the School was struggling to cop up with the growing demand for admissions. In the year 2002 the School made further strides by opening two more branches: one at Polipathar and the other at Rimjha, Katangi Road, Jabalpur. The new branches of St. Aloysius School are an attempt to reach out and cater to larger sections of people who wish to have Aloysian education.
| | |
| --- | --- |
| Name of the School:- | St. Aloysius School Katangi Road, Rimjha, P.O. Mangela, Jabalpur-482007 |
| (i) E-Mail:- | st.aloysiusrimjha@rediff.com |
| (ii) Phone No.:- | 0761-2688476,77 |
| (iii) Fax No.:- | 0761-2688477 |
| Year of Establishment of School:- | 2002 |
| NOC from State:- | Yes |
| (i) NOC NO. | 3925339 |
| (ii) NOC issuing date | 09/09/2011 |
| Status of CBSE affiliation | Provisional |
| Affiliation No. | 1030303 |
| Affiliation with the Board since | 03/04/2007 |
| Extension of affiliation upto | 31/03/2022 |
| Society | Jabalpur Diocesan Educational Society |
| Validity | Society registered under firm and Society act |
| Name and address of President | Bishop Gerald Almeida, Bishop's House, 599, South Civil Lines, Jabalpur (M.P.) |
| (i) E-Mail:- | snehsadan@rediffmail.com |
| (ii) Phone No.:- | 0761-2622413 |
| (iii) Fax No.:- | 0761-2624360 |
| Area of School campus | |
| (i) In Acres | 8 Acres |
| (ii) In sq. mtrs. | 32374.85 |
| (iii) Built up area (sq. mtrs) | 3272.57 |
| (iv) Area of playground in sq. mtrs | 9231 |
| Other facilities | |
| (i) Swimming Pool | No |
| (ii) Indoor games | Yes |
| (iii) Dance Rooms | Yes |
| (iv) Gymnasium | Yes |
| (v) Music Rooms | Yes |
| (vi) Hostels | No |
| (vii)Health and Medical Check up | Yes |
| Transport facility | |
| (i) Own buses | No |
| (ii) Buses hired on contract basis | Yes |
| Mode of payment of Salary | |
| (i) Name of the Bank | IDBI Bank |
| (ii) Through single cheque transfer advice | Yes |
| (iii) Individual cheque | No |
| (iv) Cash | No |
| Library facilities | |
| (i) Size of the Library in sq. feet | 2080 sq. feet |
| (ii) No. of periodicals | 10 |
| (iii) No. of Dailies | 04 News Paper |
| (iv) No. of Reference books | 350 |
| (iv) No. of Magazine | 10 |
| (iv) Others (i) | 6919 Books |
| (ii) | Library Software |
| Academic session period | From April to March |
| Vacation period | May and June |
| Admission period | From January to March |